Virtual HazMat Classes Available 24/7
The classes on this page are offered by organizations other than The Continuing Challenge Hazmat Workshop, and are available to the anyone in the Responder community 24/7/365. The links below will take you to the website where the content is hosted and may require that you create a free account to access the classes.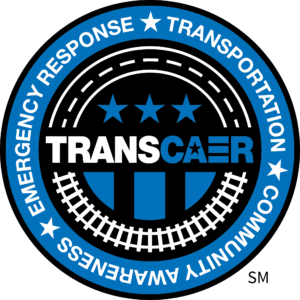 TRANSCAER – Transportation Community Awareness Emergency Response
Hazmat & Rail Safety – Course Directions:
Sign Up to create a TRANSCAER Learning Management System (LMS) account.
Note: You do not need an access code to register for a LMS Account. 
Anhydrous Ammonia Safety Training (4 hr)
Chlorine Emergencies: An Overview for First Responders (2 hr)
Crude Oil by Rail Safety Video (1 hr)
Ethanol Emergency Safety Training (3 hr)
Flammable Liquids Safety Training (1 hr 15 min)
Steel Drums 101 for Emergency Responders (1 hr)
CSX Transportation – Emergency Response to Railroad Incidents (1 hr 30 min)
Norfolk Southern  – Rail Road 101: Rail Operations, Awareness and Response (1 hr)
Norfolk Southern – Tank Car Valves and Fittings (30 min)
Norfolk Southern – Tank Car Identification (30 min)
Norfolk Southern – Locomotive Fire (30 min)
Once you have completed the class, you will automatically earn your certificate with credit hours assigned on the Learning Management System.
For technical questions, please utilize the help "?" button within the LMS Platform and submit your ticket directly through the LMS Website.
If you need a course or a final course assessment reset after three attempts, please contact TRANSCAER at

[email protected]

.
 Note: This inbox is not monitored 24/7. There could be a delay in course resets after hours M-F after 5:00PM EST and course resets are not available on the weekends.

ROB WISE U.S.-EPA
8 HOUR HAZWOPER REFRESHER – CLASS
DESCENT INTO MADNESS  (MAD CHEMIST) (5 hr)– CLASS 
MERCURY RESPONSE AND CLEANUP (5 hr) – CLASS
Download the USEPA Class Files from the links above. Unzip files if necessary.
Double Click the PowerPoint Modules in order. They will automatically open and play.
Once you have completed the class, please send an email to FOSC Robert Wise at 

[email protected]

 and you will be sent a certificate. If an entire agency is doing the training, please have your supervisor contact FOSC Wise and a certificate template will be sent to that agency supervisor.
Technical questions on the 8 Hour HAZWOPER Refresher, Descent Into Madness, and Mercury Response and Cleanup classes can be forwarded to Robert Wise. EPA

[email protected]

.