Our September 6-9, 2022 In-Person workshop is being planned. Things are looking up for a great workshop in 2022.
Ellen Dempsey took this picture and was awarded 1st place in the
Continuing Challenge HazMat Photo Contest for 2020.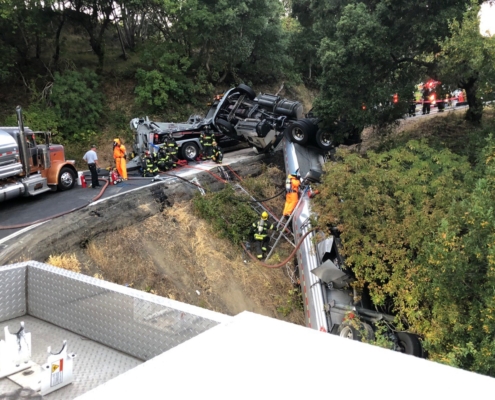 Stinger operation performed by Contra Costa Health Services, Hazardous Materials Programs in response to a
9,000 gallon overturned gasoline tanker during a mutual aid for the Marin County JPA HazMat team.
0
Weeks
0
Days
0
Hours
0
Minutes
0
Seconds
Countdown for the 33 Annual Hazmat Workshop, we hope to see you all then, The dates are September 6 – 9, 2022 at the DoubleTree Hotel, Sacramento CA.
Our mission is to provide safe response training for all emergency responders to hazardous materials incidents affecting public health and the environment.
If you need to contact us you may do so at the following.
Mailing Address:
The Continuing Challenge
11097 Grenache Way
Elk Grove, CA 95624-9691
Physical Address:
The Continuing Challenge
c/o Sacramento Fire Department
5770 Freeport Blvd. Suite 200
Sacramento, CA 95822, USA
Phone: 916-433-1688 between 8:00am
and 5:00pm Pacific time Monday
through Friday.
Our Purpose

The annual Continuing Challenge Hazardous Materials Emergency Response Workshop began in 1990 for the purpose of providing training, networking, and hands-on learning opportunities for all employees in hazardous materials emergency response-related fields of employment. Each year the first week of September, we bring together prominent and skilled presenters who volunteer to provide our students with the most recent information available to enhance or grow skills critical to ensure a safe and effective response. Featured are exciting classroom courses, hands-on sessions, and contests to test new skills.
What We Do

Advancements in hazardous material emergency response are dynamic and attendance at this popular annual workshop is critical to promote the health and safety of responders, the public, and the environment. The workshop is designed to provide the student with the latest information while maintaining the basics for individuals that are new to the HazMat field. The Continuing Challenge features courses that are designed to encourage interaction among all participants and includes topics that complement one another. Participants are provided an opportunity to work with the experts in a forum that relates problems and experiences; where achieving solutions to challenges in individual communities throughout the United States is possible.